Apply Security Guard Jobs in Dubai and across UAE with Jobvows.com. The profession of security is an important job in safeguarding people and valuable properties. People in the security job roles provide safety with alert and care. In the Middle East, the scope of security jobs are more as the economy is very developed. Likewise there are more recruitments for security jobs in Dubai which will hire skilled people. This will bring in more scope for freshers that match for the job profiles of security guards. Good communication skills, personality and physique are boon in maintaining a steady career.
Security Guard Jobs in Dubai, Abu Dhabi, Sharjah & Ajman 2022
In the coming years, the economy in UAE will be vast. This will flourish developments in many different sectors in the UAE. More possibilities for jobs will bring more diverse people enriching optimistic work culture. Likewise, the security guard job in UAE will be a key aspect in protecting and safeguarding the sectors. Many industries at present require security forces and individuals for safety protocols and emergencies.
More Security Guard Jobs Click Here
| | |
| --- | --- |
| Position | Security Guard / Watchman / CCTV Operator / Security Supervisor |
| Job Location | Dubai, Abu Dhabi, Sharjah, Ajman & across UAE |
| Experience | As per the below requirements |
| Qualification | A high school qualification or equivalent / DPS |
| Salary | AED 2000 to AED 5000 + |
| Nationality | Selective |
| Post Update | 8th May 2022 |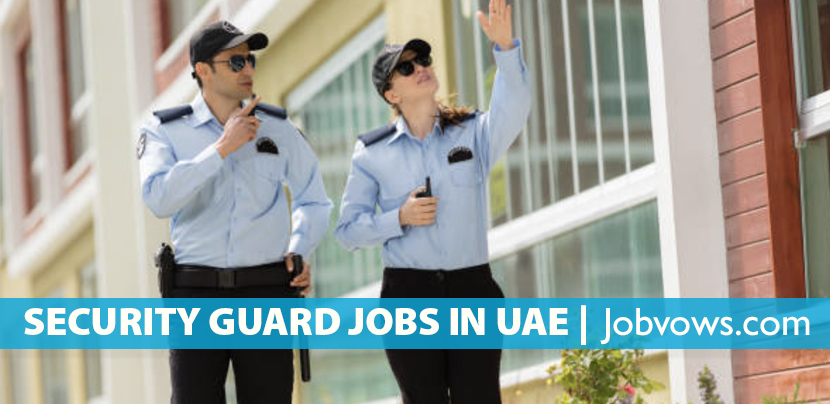 Security Guard Duties and Responsibilities
Security is a profession that requires unique skills. For they mould eligible individuals in the profession to implement the duties and responsibilities efficiently. Following are some of the duties of a security guard
Maintain good physique
Sharp minded to handle emergency situations
Alertness and knowledge of the environment and surroundings
Good communication skills and personality
To help people in situations of assistance
Be willing to undergo martial arts training or similar discipline programs for effective protection
How to Apply Security Guard Jobs in Dubai?
Security jobs require people with good physique and experience in handling the job effectively. Candidates who are willing to apply for the current vacancies must submit their updated resume. Following are the list of current openings for the jobs of security guards. Requirements and eligibility will be provided in detail. Wishing you all the best.
Updated Job Vacancies in Security Guard / Watchman / Team Leader (May 2022)
---
Walk in Interview – Security Guards
Monthly Salary:Negotiable
Benefits:Company Visa , Accommodation , As per UAE law
Neighbourhood:Al Qusais 1
Work Experience:1-2 Years
Education Level:High-School / Secondary
A food stuff trading company requires Light/Heavy Driver, Helpers/Security Guards/ Inventory Controller and Data Entry on an urgent basis. Candidates with below attributes may apply;
Candidates must be able to read and speak English language well
Having pleasing personality
Available to join immediately
Age must be 19 years and above.
Interview Timing: 09:00 AM to 5:00 PM.
Note: Bring cv during walk in interview to save the time.
Contact# 0559355130
Email: [email protected]
Post Date: 8th May 2022
---
Female Security guards
Job Location: Dubai
Company Name:FSG
Monthly Salary: AED 2000 – 2500
Work Experience:2-5 Years
Education Level:High-School / Secondary
URGENTLY HIRING FOR FEMALE SECURITY GUARD
(SIRA Training Certificate Is Mandatory)
A reputed Security Company in Dubai is looking for Female Security Guard with SIRA License &
5 years of combined experience in military, police or security.
Requirements:
Minimum educational qualification required is 10th pass/High school pass
(Attested by Embassy & Ministry of Foreign Affairs UAE)
Experience certificate(s) required
Should able to Read, Write and Speak English language
Age between 21 – 38 years can apply
Good conduct certificate / Police clearance certificate (From Dubai Police)
Passport validity should be minimum 18 months
Should score minimum 60% in written test
Nationality: Any ( preferably Pilipino, Pakistan, Indian)
Gender: Female
Physical requirements:
Height for Female: Proportionate to height and body built
Weight for Female: Proportionate to height and body built
Should provide certified medical report and should pass DHA test of UAE.
(Applicants should submit medical certificate from local medical centers.)
Fitness requirements (SIRA Fitness Certificate):
Beep test – 4:9
Jumping – 1.8 meters
Sled push – 10 meters in 4 seconds
Sled pull – 10 meters in 6 seconds
Sprinting – 35 meters in 6 seconds
Please send your CV to [email protected] with subject "GO/SG/S03G/04-0522"
Post Date: 8th May 2022
---
You may also like to apply,
Disclaimer : jobvows.com will never ask money or we will never call you regarding jobs & visa and we are not recruiters, instead we just sharing available jobs to help others. We are not involving any stages of recruitment directly or indirectly. So we request job seekers, Please do thorough research before applying/attending to any job interview through our website. Read More…