Apply Security Guard Jobs in Dubai and across UAE with Jobvows.com. The profession of security is an important job in safeguarding people and valuable properties. People in the security job roles provide safety with alert and care. In the Middle East, the scope of security jobs are more as the economy is very developed. Likewise there are more recruitments for security jobs in Dubai which will hire skilled people. This will bring in more scope for freshers that match for the job profiles of security guards. Good communication skills, personality and physique are boon in maintaining a steady career.
More Security Guard Jobs Click Here
| | |
| --- | --- |
| Position | Security Guard / Watchman / CCTV Operator / Security Supervisor |
| Job Location | Dubai, Abu Dhabi, Sharjah, Ajman & across UAE |
| Experience | As per the below requirements |
| Qualification | A high school qualification or equivalent / DPS |
| Salary | AED 2000 to AED 5000 + |
| Nationality | Selective |
| Post Update | 14th October 2021 |
Security Guard Jobs in Dubai, Abu Dhabi, Sharjah & Ajman
In the coming years, the economy in UAE will be vast. This will flourish developments in many different sectors in the UAE. More possibilities for jobs will bring more diverse people enriching optimistic work culture. Likewise, the security guard job in UAE will be a key aspect in protecting and safeguarding the sectors. Many industries at present require security forces and individuals for safety protocols and emergencies.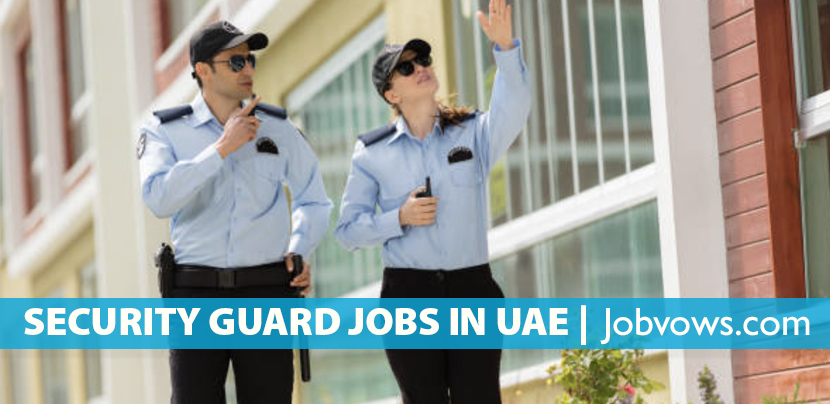 Security Guard Duties and Responsibilities
Security is a profession that requires unique skills. For they mould eligible individuals in the profession to implement the duties and responsibilities efficiently. Following are some of the duties of a security guard
Maintain good physique
Sharp minded to handle emergency situations
Alertness and knowledge of the environment and surroundings
Good communication skills and personality
To help people in situations of assistance
Be willing to undergo martial arts training or similar discipline programs for effective protection
How to Apply Security Guard Jobs in Dubai?
Security jobs require people with good physique and experience in handling the job effectively. Candidates who are willing to apply for the current vacancies must submit their updated resume. Following are the list of current openings for the jobs of security guards. Requirements and eligibility will be provided in detail. Wishing you all the best.
Updated Job Vacancies in Security Guard / Watchman / Team Leader
---
SECURITY GUARDS AND CLEANERS
Job Location: Dubai
Company Name:NOOR AL SAHAR FACILITY MANAGEMENT
Monthly Salary: Unspecified
Benefits: Accommodation, Transportation, Medical and after two year ticket provided.
Work Experience: 0-1 Years
Education Level: High-School / Secondary
Security Company has a full-time Job requirement for staff of both English and Arabic speaking, to perform the duties of security guards Male and Female are required to join to our organization, to join immediately. We provide a comprehensive range of market-leading security services across the UAE, including personal protection, fully integrated security technology solutions and event security. To qualify the candidate, he or she must possess the following attributes: School educated with good communication and social skills, must be customer-oriented, a team player with positive attitude, physically presentable and mentally disciplined, who is in perfect health and must be able to pass fitness performance tests. (2) we need cleaners also who has experience in cleaning .If you might be the right candidate who could fit to this role, we welcome your interest, and we encourage you to send us more details in order to arrange a meeting to discuss the matter further. we encourage you to send your CV with current photo, CVS without photo will not be considered.
Contact# 0526147182 or 0565846062
Post Date: 14th October 2021
---
Security Guard
Job Location: Dubai
Monthly Salary: Unspecified
Work Experience: 0-1 Years
Education Level: High-School / Secondary
Security guard duties and responsibilities- There are many sorts of duties and responsibilities of the security guard depending on the client needs but the primary duty of the security personnel is prevention and deterrence of the crime and enforce the rule and regulation where they are guarding.
WhatsApp your cv to: 0569651150
Post Date: 14th October 2021
---
Security Guard
Job Location: Dubai
Monthly Salary: AED 2000
Work Experience: 0-1 Years
Education Level: N/A
Looking for a fit and attentive security guard to ensure that our property is protected. The security guard is responsible for recording the names of visitors, patrolling the property and apprehending any trespassers.
Contact# +971504367610
Post Date: 14th October 2021
---
Safety Officer
Job Location: Dubai
Monthly Salary: AED 2000 – 4000
Work Experience: 0-1 Years
Education Level: N/A
looking for a responsible Safety Officer to facilitate compliance with occupational health and safety (OHS) guidelines. You will provide advice on measures to minimize hazards or unhealthy situations. You will also be on a constant lookout for violations.
Send Your CV to WhatsApp: +971504133190
Post Date: 14th October 2021
---
Security Guard
Job Location: Sharjah
Company Name: AFAQ LLC
Monthly Salary: AED 4000 – 5000
Work Experience: 1-2 Years
Education Level: High-School / Secondary
Urgently need security guard in Sharjah, can apply with SIRA or without SIRA. Interested candidate send their cv on WhatsApp# +971543914525
Post Date: 5th October 2021
---
You may also like to apply,
Disclaimer : jobvows.com will never ask money or we will never call you regarding jobs & visa and we are not recruiters, instead we just sharing available jobs to help others. We are not involving any stages of recruitment directly or indirectly. So we request job seekers, Please do thorough research before applying/attending to any job interview through our website. Read More…