Emirates Logistics Jobs in United Arab Emirates and Careers in 2022: Emirates Logistics LLC is a pioneer in providing Freight and Logistics solutions. Head quartered in Dubai and spread across UAE with 5 branches, it is well resourced and competent organization operating and servicing a large customer base in various segments of the market.
Since its inception, Emirates Logistics has made strategic investments in Infrastructural development, World Wide Agent network, Technology and Expertise, enabling our expeditious escalation as a renowned and successful brand both in the UAE and the Middle East.Our objective is to bring value to our customers through our comprehensive Logistics capabilities, but still be flexible to provide customized solutions to each customer to meet their unique business needs.
Emirates Logistics Careers – Logistics Jobs in United Arab Emirates
Apply Emirates Logistics Jobs and Careers at Jobvows in 2022 to apply online. Find the latest job vacancies at Emirates Logistics in Dubai, Abu Dhabi UAE & More. Find the latest updates of Emirates Logistics career opportunities in 2022 with our platform.
| | |
| --- | --- |
| Company Name | Emirates Logistics LLC |
| Job Location | UAE |
| Qualification | Diploma or Equivalent Degree |
| Experience | Mandatory |
| Salary | Not Sepcified |
| Nationality | Any |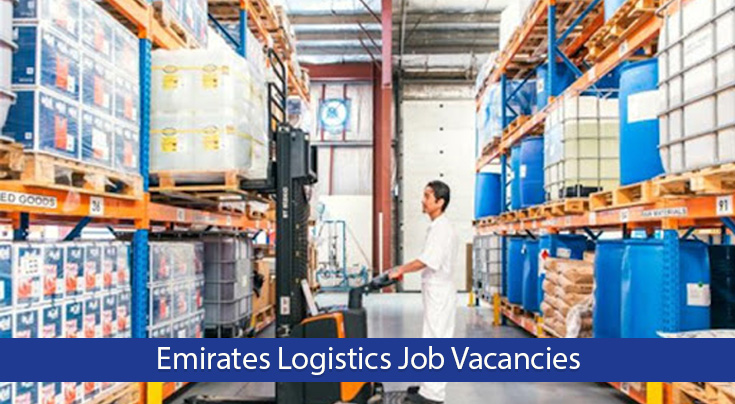 How to Apply Emirates Logistics Jobs in UAE?
To apply for Emirates Logistics Job online and to complete online job applications click on the below link and the website will guide you to fill up the mandatory details, also you'll need email address to use sign up for job apply, an up-to-date resume. Once you have done the job application, you have to wait for the job notification through your email.
Job Vacancies in Emirates Logistics
Junior Technician – MHE Maintenance
Diploma / Degree in Mechanical Engineering
Working experience of maintaining MHE machines for min 2 years
English Language Proficiency, able to speak and write in English
Analytical Thinking – Use of technical knowhow to resolve machine problems.
Teamwork and positive attitude while handling agitated workers
Adaptability/Flexibility at work to quickly adapt to critical work situations.
Position: Heavy Truck and Heavy Bus Driver
Job Location: Dubai
Must of min 2-3 years of driving Heavy Trucks and Bus.
Must have UAE RTA License fro Driving Heavy Vehicle and heavy Bus
Good Driving track record
Monthly SalaryMonthly AED 3500 + Company Accommodation + Company Transport
BenefitsMedical Insurance, Accident Insurance, Ticket every 2 years, 30 days paid leave
Position: Forklift Operator with Reach Truck experience
Job Location: Dubai
Holding Valid UAE RTA approved Forklift Operator license
2-3 years of previous work experience as a Forklift and Reach Truck operation.
Should be good with English – spoken & reading
Able to use RF scanner
Safety conscious during operations
Good interpersonal skills
Monthly Salary 3000 AED
BenefitsCompany Accommodation & Transportation, Food Allowance, Medical Insurance , Life Insurance, Ticket every 2 years , 30 days paid leave every year
Position: Warehouse Co-Worker/ (Females only)
Job Location: Dubai
Physically fit to work inside warehouse. in hot & humid conditions
Will involve long hours of standing and walking inside the warehouse
English Speaking is must
Should have attitude for accuracy, cleanliness and quality at work
Should be available to join immediately
Company Accommodation & Transportation, Food Allowance, Medical Insurance , Life Insurance, Ticket every 2 years , 30 days paid leave every year.
Position: Fork Lift Operator (Ladies only)
Job Location: Dubai
Minimum Education LevelHigh School/Secondary School
Monthly SalaryAED 3,000 +Food Allowance = 206 pm AED
BenefitsCompany Accommodation + Company Transportation + medical insurance + OT, Ticket every 2 years, 30 days Paid leave every year
Position: Cleaner
Job Location: Dubai
Benefits: 2 years ticket and insurance card
Minimum work experience: Entry Level
Minimum Education Level: High School/Secondary School
You may also like to apply,
Disclaimer : jobvows.com will never ask money or we will never call you regarding jobs & visa and we are not recruiters, instead we just sharing available jobs to help others. We are not involving any stages of recruitment directly or indirectly. So we request job seekers, Please do thorough research before applying/attending to any job interview through our website. Read More…