Government Jobs in Middle East: In the Middle East, around ninety percent of the day to day domestic, social and international services are administered under the public sector.
This creates an assurance for quality of service and reliability for needs and purposes. Being under the Government control, the services can be monitored by the respective authorities for transparency, effective delivery and long term strategies.
GCC nations such as Bahrain, Oman, Kuwait, Saudi Arabia, Qatar and UAE are administered by certain respective higher government authorities.
Owing to the geographical area of each and every GCC nations, government organizations and its branch departments are widely present for serving the citizens and the country with honor and respect.
Therefore, this creates a secured layout of assistance for the citizens as well as for the workforce too.
Future Demand of Government Jobs in Middle East
In the coming years, technology will develop into advanced platforms and this too shall be utilized in the government sector. In addition to this, the population of youth is growing which will lead to skilled competitiveness on a global scale.
This too shall bring more job opportunities in the government sector. Education along with unique skills will determine their efficiency.
GCC nations such as UAE, Qatar, Saudi Arabia, Kuwait, Oman and Bahrain shall conduct job recruitments in respective government sectors.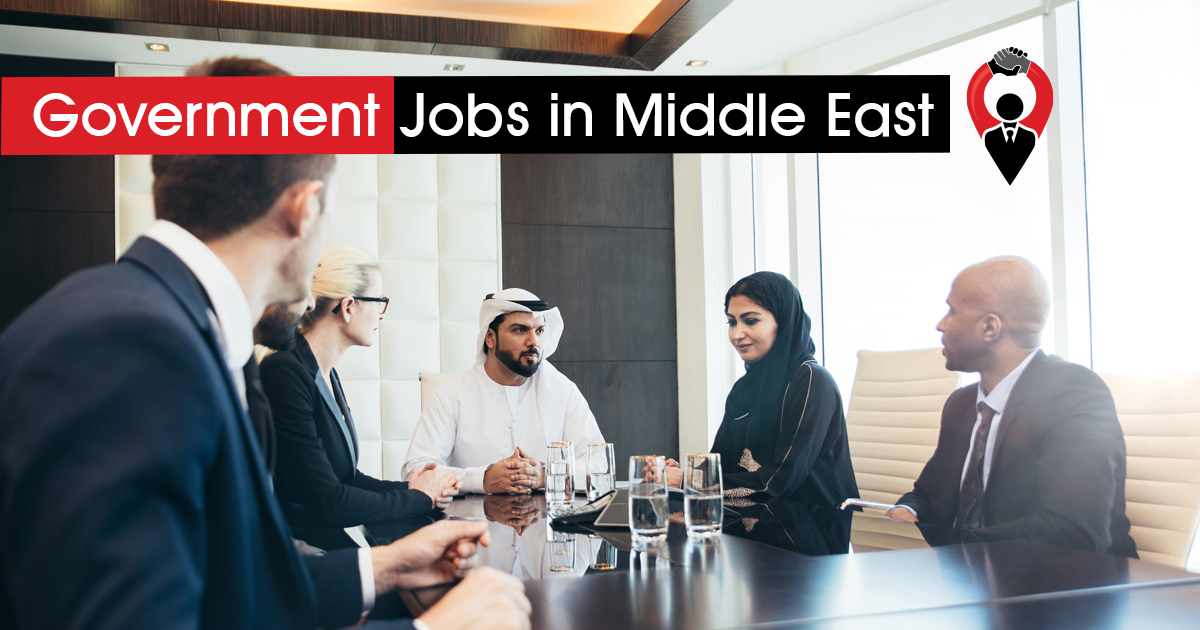 Government Jobs in Middle East & GCC Nations
Likewise, applying for a job in the GCC & Middle East government departments has its advantages and benefits. Such as basic salary including allowances for transport, housing, flight journey coverage, service gratuity.
Most government offices are situated in tax free zones and this helps to save money on taxes. Government entities in GCC countries are secured with high job security as these are very formal and strict. Government organizations in Asia, Europe and MENA regions too will create more job opportunities for the educated and skilled population. This shall increase the GDP and employment rate.
Find Government Jobs in Middle East
1. UAE Government Jobs
Apply for Government Jobs in UAE: Public sector in GCC countries has a wider scope of job opportunities for candidates with fair educational background and good work experience.
In terms of respective job growth, the best employment progress rate is in the Healthcare, Education, Hardware and Telecom, Hardware, Oil and Gas.
Quality and Excellence are the major landscape that brings together a treasure of world-wide experience from diverse cultures in this sector. Click the below link for more details about UAE Government and Job listings…
Explore the latest government jobs vacancies in Dubai and UAE from 2023. Click the above button to know the latest career opportunities in UAE.
Learn how to apply for government jobs in Dubai and also go through the Frequently Asked Questions about government jobs in UAE.
2. Saudi Arabia Government Jobs
Saudi Government Jobs and Careers Recruitment: Saudi Arabia is one of the fastest developing Arab nations in the world. On a global scale, Saudi Arabia is the second largest producer of oil in the world.
At the same time, the nation has sixth largest gas reserves and second largest oil reserves in the world. This forms the main backbone of the economy of Saudi Arabia. Click the below link for more details about Saudi Government and Job listings…
Learn more about Saudi Arabia government jobs and the vacancies in Saudi Arabia companies.
You can find jobs in Saudi Arabia for freshers, experienced & foreigners also.
3. Qatar Government Jobs
Apply for Qatar Government and Semi Government Jobs in Qatar: The Qatar Government serves more than 2.7 million Qatari citizens living in the country. Qatar is famous for the high human development index and also as one of the most advanced Arab nations.
The third largest natural gas reserves and oil fields in the world are geographically located in Qatar. Click the below link for more details about Qatar Government and Job listings…
Explore the latest jobs in Qatar government sectors in 2023 and apply online.
How to get Government Jobs in Middle East?
You May Also Like,
Disclaimer : jobvows.com will never ask money or we will never call you regarding jobs & visa and we are not recruiters, instead we just sharing available jobs to help others. We are not involving any stages of recruitment directly or indirectly. So we request job seekers, Please do thorough research before applying/attending to any job interview through our website. Read More…