Walk-in-Interview Jobs in Dubai: Over the last 100 years, Gulf and Middle-Eastern nations have been flourishing with development, growth and several opportunities in many aspects. Of all, Dubai is the most sought after destination for talented and experienced job seekers. It is a dream of every job aspirant to work in Dubai, the land of never-ending rich opportunities.
People from across the globe seek jobs in Dubai. The region is diverse in a culture where people can live, learn, and grow with peace, happiness, prosperity, social and financial security. At the same time, the economy in Dubai provides a higher standard of living with supreme quality for the people.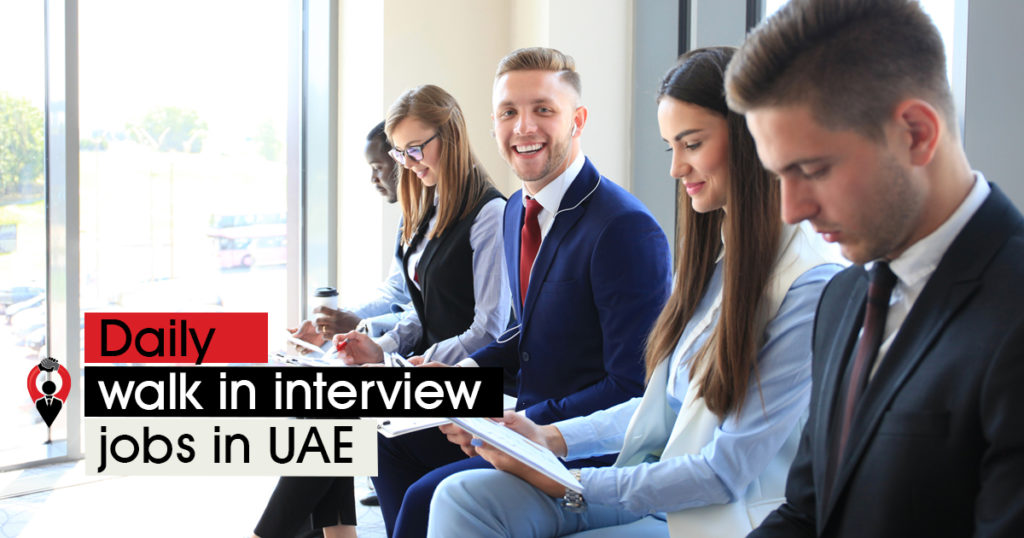 Moreover, some of the top Western, European, Asian companies and small scale industries have built and secured a global network in Dubai.
What is Walk-in-Interview? And why do Employers prefer more to conduct Walk-in-Interview?
Well, first and foremost a short brief on the Walk-in-Interview process will give an idea of its own distinguishing from the online interview process. Walk-In-Interview job ads are mostly circulated via Social Media Platforms and Newspapers.
When any firm requires a certain volume or percentage of employees for specific job openings or a single employee for a particular job posting on an immediate basis, the best and quick method several companies adopt is a Walk-in-Interview process. The process consists of
Fixing a date, time and venue for conducting an interview by the Employer
Face to Face interview sessions
Screening the candidates for core skills, professional capability, and experience
Short-listing of candidates by the job recruitment team officials
The shortlisted candidates will be notified for further rounds of interview on the same day or on another day
Appointed candidates are notified regarding the date of joining and documents to be produced. Thus they become the official employees of the company
Explore this week's list of Walk-in-Interview Jobs in Dubai
Dear candidates, please browse the list of job ads that are in the walk-in-interview category. Candidates will be placed in the business hub regions of Dubai, Sharjah, Abu Dhabi, and Ajman. Stay tuned and visit this website every week for more Walk-in-Interview job ads. Following are this week' list of job postings
Position: Order Pickers/Helpers
Company Name: Kibsons International
Responsibilities: Work will be in cold store where the temperature varies from 0-15 degrees
Language Skills: English (Read & Understand)
Joining Status: Immediately
Salary: 1300 AED /month
Benefits: Company Accommodation + Overtime + Transportation + Medical + Visa + Annual Leave
Interview Date: 29th Mar – 12th Apr 2020 (Except Fridays)
Timing: 09:00 AM – 12:00 PM & 04:00 PM – 06:00 PM
Location: Kibsons International LLC, 29th Street, Al Manama Road, Ras Al Khor, Next To Emirates
Auction, Industrial Area #2, Dubai.
Position: Receptionist cum Customer Care
Company Name: We Clean It
Industry: Cleaning Company
Job Shift: Flexible
Education: High School/Graduate
Experience: 1 year similar experience
Core Skills: Customer Service & Communication
Well Versed: Cash Handling & Computer Literate
Interview Date: 24th Apr – 28th Apr 2020
Timing: 12:00 PM – 04:00 PM
Location: 3rd Floor, Rasis Business Center Building, Same Baskin Robin/Fitness First Building, Al Barsha, Dubai.
Must Bring: CV, Passport Copy & Current Visa
Position : Sales Officer/ Sr. Sales Officer
Salary : Up to AED 5,500 + Attractive Incentives
Nationality : Open
Location : Dubai, U.A.E
Job Requirement :
• Minimum 2 years of banking sales experience in the UAE market(mandatory).
• Familiar with retail products (cards/loans ) will be an added advantage.
If interested, Kindly share your updated CVs to [email protected]
Position: HR Consultant/Coordinator (Indian)
Company Name: GCD HR & Management Consultancies
Education: Bachelor's Degree in Management
Experience: 2+ years HR experience
Core Skills: Communication & Interpersonal Skills
Visa Type: Spouse/Father Visa
Working Hours: 9 hours a day
Gender: Female
Salary Range: 2500 – 3500 AED /-
Email CV: [email protected]
Position: Telesales Representative (Indian, Pakistani & Nepali)
Company Name: Brillant Avenir General Trading LLC
Education: High School Diploma & BSc/BA (Advantage)
Core Skills: Communication, Interpersonal & Negotiation
Language Skills: English, Hindi, Urdu & Malayalam
Visa Type: Husband/Father Sponsorship Visa with NOC
Gender: Female
Salary Range: 2500 – 6000 AED /-
Interview Date: 7th Mar – 9th Apr 2020
Timing: 11:00 AM – 04:00 PM
Location: Office #01-01, 4th Floor, Mai Tower, Al Nahda 1, Dubai.