AECOM Jobs & Careers 2020: Architecture, Engineering, Consulting, Operations and Maintenance or popularly known as AECOM was found in 1990. The headquarters of AECOM is established in Los Angeles, California (United States of America). AECOM business portfolio includes Construction Management, Building Design and Architectural Engineering. As a major infrastructure company, AECOM has created milestones in mega projects involving transportation, water, buildings, energy and environment and Governments. AECOM Engineers, Designers, Consultants and Construction Managers all work together to deliver a bright world for the people through infrastructure possibilities. With 87,000 workforce, some of the famous AECOM projects are Abu Dhabi International Airport, Barclays Centre, Dubai Healthcare City, Etihad Towers, Ferrari World and Sydney Airport. Fortune Magazine has ranked AECOM globally as the World's Most Admired Companies.
Services of AECOM include Planning and Consulting Archaeology, Architecture and Design, Construction, Engineering, Operations and Maintenance, Environmental Services, Decommissioning and Closure, Construction Management, Decommissioning and Closure. AECOM portfolio also includes Asset Management, Cost Management, Risk Management and Resilience, Information Technology and Cyber Security, International Development, Economics and Technical Services.
AECOM exploring the latest job opportunities and urgent openings.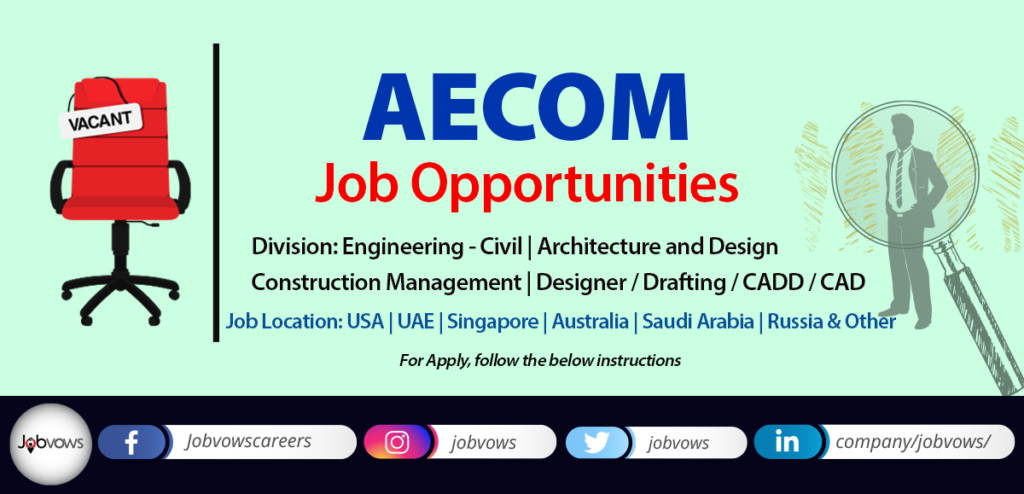 Industry: Civil Engineering
Work Type: Full Time
All Nationality can apply
AECO Jobs: How to Apply?
Interested applicants are requested to sign in by clicking on the link below or "The Apply" menu. The website directs the applicants to sign up and fill in online the mandatory details. Please ensure to have a valid email ID and before applying. All the notifications shall be sent to you via the valid email ID registered in the website.
| | | |
| --- | --- | --- |
| Positions | Location | Action |
| Civil Superintendent | USA | Apply |
| Transportation/ Traffic Engineer | USA | Apply |
| Senior Water Resources Engineer | USA | Apply |
| Civil Engineer II | USA | Apply |
| Road/Highway Civil Design Engineer | USA | Apply |
| Road/Highway Civil Design Engineer | USA | Apply |
| Road/Highway Civil Design Engineer | USA | Apply |
| Civil Engineer – Ports & Marine Terminals | USA | Apply |
| Intermodal Freight-Transportation Civil Engineer | USA | Apply |
| Senior Civil Engineering Manager | USA | Apply |
| Project Manager – Dams Engineering | USA | Apply |
| Water Resources/Infrastructure Engineer | USA | Apply |
| Water Resources/Infrastructure Engineer | USA | Apply |
| Water/Wastewater Project Manager | USA | Apply |
| Senior Construction Engineer | USA | Apply |
| Design Engineer – Water, Abu Dhabi | UAE | Apply |
| Specialist – Stakeholder Management | UAE | Apply |
| Associate Director ORAT | UAE | Apply |
| Resident Technical Officer, M&E | Singapore | Apply |
| Senior Engineer, Electrical | Singapore | Apply |
| Senior Landscape Architect/ Landscape Designer | Singapore | Apply |
| Senior Contract Manager | Singapore | Apply |
| Intern (Quantity Surveyor) | Singapore | Apply |
| Quantity Surveyor (M&E) | Singapore | Apply |
| Project Information Manager | Singapore | Apply |
| Design Engineer, Structural | Singapore | Apply |
| Senior Geotechnical Engineer | Singapore | Apply |
| Operations Manager – Civil Infrastructure, NSW & ACT | Australia | Apply |
| Operations Manager- Civil Infrastructure | Australia | Apply |
| Civil Engineer – Utilities | Australia | Apply |
| Project Management Administrator | Australia | Apply |
| Director-Water Resources | Australia | Apply |
| Site Based Civil Engineers for Road Construction Projects | Australia | Apply |
| Technical Director – Rail | Australia | Apply |
| Senior Civil Designer (Darwin) | Australia | Apply |
| Practice Lead – Consulting + Technology | Australia | Apply |
| Expression of Interest – Logistics Manager | Saudi Arabia | Apply |
| Land Surveyor | Saudi Arabia | Apply |
| Project Director | Saudi Arabia | Apply |
| Resident Engineer | Saudi Arabia | Apply |
| Senior Quantity Surveyor | Saudi Arabia | Apply |
| Civil Engineer | Saudi Arabia | Apply |
| Estimating Section Manager, Saudi Arabia | Saudi Arabia | Apply |
| Mechnical/Electrical Estimator | Saudi Arabia | Apply |
| Senior Architect | Saudi Arabia | Apply |
| Document Controller | Saudi Arabia | Apply |
| Project Manager | Saudi Arabia | Apply |
| Russia Graduates Opportunities 2020 | Russia | Apply |