Apply Qatar National Bank Jobs and Careers 2023: The QNB or Qatar National Bank is situated in Doha, Qatar. The bank has an array of valuable and leading financial services. At the same time, QNB portfolio enhances the skills and knowledge in banking for employees. They serve to millions of customers in various branches across the world. This connects people across the nations for transactions, business and services. In addition to this, the QNB group has established strong footholds in the global markets. Moreover, this will introduce more possibilities of employment in banking jobs in Qatar. Banking job aspirants can definitely aim for career growth in QNB. For the Qatar National Bank jobs supports the builders of the future who form the manpower.
Qatar National Bank (QNB) Careers 2023
The Qatar National Bank is an innovative institution for career aspirants. On a world wide scale, Qatar National Bank has branches in the MENA regions. Likewise, the QNB is known for its financial brand and global presence. This will open more banking branches and add manpower in Qatar National Bank careers. At the same time, QNB assists in developing the economy of Qatar. So in the coming years, there will be scope for vacancies in Qatar government jobs. Individuals with banking experience and freshers can progress well in their careers with QNB.
| | |
| --- | --- |
| Bank Name | Qatar National Bank (QNB) |
| Job Location | Qatar |
| Qualification | Degree |
| Experience | Mandatory |
| Salary | Not Specified |
| Nationality | Qatar |
Qatar National Bank (QNB) Jobs in Qatar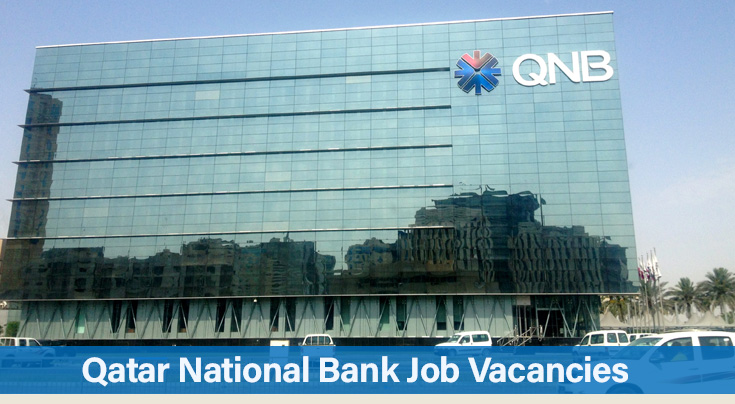 Qatar National Bank Jobs: Procedure to Apply
Interested and Qualified candidates may apply online for the job opening
. Click on the "Apply Now" button below. The website will guide the candidate to fill up the necessary professional and personal details
. Once the process of Job Application is complete, candidates will receive a notification email of the same.
[Note: If you find any job's that are already filled, don't worry we'll be updating soon when vacancies arrive.]
Job Vacancies in Qatar National Bank
| | |
| --- | --- |
| Positions | Action |
| QNB2670-Executive SecretarySecretarialQNB | Apply Now |
| QNB2671-Senior Manager, Backup Power | Apply Now |
| QNB2672-Senior Associate, Facilities Management | Apply Now |
| QNB2667-Graduate Career Opportunities | Apply Now |
| Senior Associate, Brand & Corporate Identity | Apply Now |
| QNB2665-Manager, Procurement Marketing | Apply Now |
| QNB2666-SecretarySecretarialQNB – Qatar//Doha | Apply Now |
| QNB2662- Teller : Corporate Banking | Apply Now |
| QNB2663-Assistant Vice President | Apply Now |
| QNB2659-Senior Manager HR Business Partner | Apply Now |
| QNB2661-Manager Card Risk Issuing | Apply Now |
| QNB2657-Relationship ManagerInternational | Apply Now |
| QNB2655-Manager – Corporate Loans | Apply Now |
| QNB2646-Programmer | Apply Now |
| QNB2642-Manager – Operations Audit | Apply Now |
| QNB2639-Manager International Asset Management | Apply Now |
| QNB2637-Senior Manager IT Project Management | Apply Now |
| QNB2635-Senior Associate International Taxation | Apply Now |
| QNB2464-Senior System Analyst IT | Apply Now |
| QNB2631-Senior Associate Strategy PMO | Apply Now |
You may also like to apply,
Disclaimer : jobvows.com will never ask money or we will never call you regarding jobs & visa and we are not recruiters, instead we just sharing available jobs to help others. We are not involving any stages of recruitment directly or indirectly. So we request job seekers, Please do thorough research before applying/attending to any job interview through our website. Read More…