Explore Islamic Development Bank Careers and Job Vacancies in Saudi Arabia from 2022 with Jobvows. Apply the latest job vacancies in Islamic Development Bank, Saudi Arabia in 2022.
ISDB provides the best job opportunities for freshers and experienced candidates. Those who are looking for career opportunity in Banking sectors in Saudi Arabia can apply online by exploring the latest job vacancies here.
Islamic Development Bank Jobs & Careers 2022
Islamic Development Bank Jobs and Careers 2022: The Organisation of the Islamic Cooperation along with the support of the King of Saudi Arabia at that time established the Islamic Development Bank (IsDB) in 1973. IsDB operations were initiated on April 3rd 1975 and the global headquarters are situated in Jeddah, Saudi Arabia. IsDB holds one-quarter of the paid-up capital of Saudi Arabia. A Workforce of 932 employees, IsDB serves their 57 member nations and non-member countries across the world.
Services of the IsDB are financing (Trade, SME, public and private sectors), assistance (poverty alleviation, capacity building, scholarships), emergency relief, resource mobilization, export credit, economic cooperation, advisory services, direct equity investment (Islamic Financial Institutions), Insurance coverage, research and training programs in Islamic economics and Investment services.
| | |
| --- | --- |
| Company Name | Islamic Development Bank |
| Job Location | Saudi Arabia |
| Qualification | Bachelor's degree |
| Experience | Mandatory |
| Salary | Not Specified |
| Nationality | Selective |
ISDB Careers & Jobs – Saudi Arabia 2022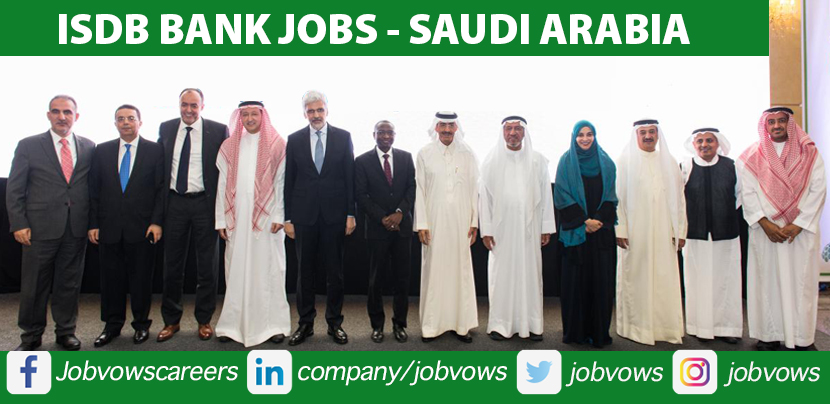 How to Apply Islamic Development Bank Jobs in 2022?
Interested applicants are requested to clicking on the link below. The website directs the applicants to sign up and fill in online the mandatory details. Please ensure to have a valid email ID and Contact number before applying. All the notifications shall be sent to you via the valid email ID registered in the website.
Job Vacancies at Islamic Development Bank
| | |
| --- | --- |
| Positions | Action |
| Creative / Graphic Designer (Outsourced) | Apply Now |
| Senior Associate, Fixed Income | Apply Now |
| Director Strategy, Budget | Apply Now |
| Principal Fixed Income and Treasury Legal Affairs | Apply Now |
| Lead Project Management Specialist (LLFMU) | Apply Now |
| Lead Environmental and Social Safeguards Specialist | Apply Now |
| Senior Environmental Safeguards Specialist | Apply Now |
| Senior Social Safeguards Specialist | Apply Now |
| Director General, Global Practices | Apply Now |
| Senior Talent Acquisition Specialist | Apply Now |
| Senior Solution Security Specialist | Apply Now |
| Division Manager, Legal Affairs Division | Apply Now |
| Government Relations Associate Manager | Apply Now |
| Infrastructure and Security Architect Specialist | Apply Now |
| Senior Integrity Specialist | Apply Now |
| Chief Executive Officer | Apply Now |
| Administrative Assistant (Outsourced) – ICD | Apply Now |
You may also like,
Disclaimer : jobvows.com will never ask money or we will never call you regarding jobs & visa and we are not recruiters, instead we just sharing available jobs to help others. We are not involving any stages of recruitment directly or indirectly. So we request job seekers, Please do thorough research before applying/attending to any job interview through our website. Read More…