Jobs and Careers at Samref 2022: The complex refinery SAMREF – Saudi Aramco Mobil Refinery Company Ltd. was established in 1981 through a joint venture between the Saudi Aramco and Mobil Yanbu Refining Company. Saudi Aramco is known as the world's largest oil producing and exporting firm in the world. Mobil Yanbu Refining Company is a fully owned subsidiary of the global energy firm, Exxon Mobil Corporation. Unique core values of organization such as excellence, teamwork, integrity, citizenship and accountability provided a manpower of more than 4,500 employees in SAMREF.
Petroleum industries in North America, Europe and Far East receive exports of SAMREF. Refining capacity in SAMREF is about 402,000 barrels of Arab Light Crude per day. SAMREF produces a full range of propane and more grades of gasoline, jet fuel, LPG, heating oil, many gradients of ADO (automotive diesel oil), Sulfur and MHFO (marine heavy fuel oil) of two different grades. The total storing capacity in SAMREF refinery equals 13.2 million barrels.
Samref Careers and Jobs in Saudi Arabia
| | |
| --- | --- |
| Company Name | Samref (Saudi Aramco Mobil Refinery Company Ltd) |
| Job Location | Saudi Arabia |
| Qualification | Diploma / Degree |
| Experience | Mandatory |
| Salary | Not Specified |
| Nationality | Any |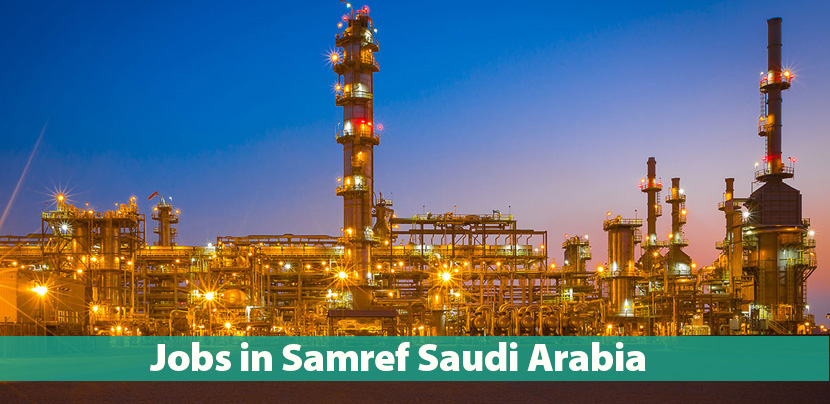 How to Apply Samref Jobs?
Candidates can only apply through online mode
Candidates must have a valid email ID to submit application and receive job notifications
Click on the Apply button below. The website will guide the candidate to fill up the necessary professional and personal details
Once the process of Job Application is complete, candidates will receive a notification email of the same.
[If you found that any jobs are already filled in the below list, don't worry we will update when new jobs are arrive]
Job Vacancies in Samref Saudi Arabia
Sr. Production & Supply Planning Engineer
Job Location: Saudi Arabia
Qualification: Bachelor in Chemical Engineering
Experience: Minimum of 8 years of experience in refinery/petrochemical (Preferred)
Purpose of Work:
Provide staff planning assistance for the operation of refinery processes and the production of products for the Export Refinery. Analyze daily operations and provide operating targets for optimization of the refinery. Prepare monthly operating plans including rate/severity/cutpoint targets, inventory targets, and optimal operating modes and product slate. Evaluate Spot/Spec variances limits, capabilities & economics for SPSB updates.
Regular Assigned Duties:
Develops schedules for weekly and monthly operating periods considering refinery economics, raw materials, product demands, weekly target, monthly plan and refinery equipment capability.
Monitors refinery process data on daily basis. Reviews, analyzes, and interprets to make recommendations to Operations Dept. on unit rates, cut points, severities, etc. to optimize refinery operations.
Liaison with Offtakers with respect to Production Programs, Lifting Nominations. Lifting Schedules and Inventory Control/Allocation.
Provide reconciliation of actual versus planned production (qualities, quantities, unit yields, etc.) and inventory and present to steering team in Accountability meeting on quarterly basis.
Coordinates raw material inputs (crude, gas liquids, methanol, etc.) and additive purchases
Provide relief when required ie.:
Prepare delivery and receipt schedule of products.
Coordinate feed stock transfer for local industry (Yanpet, Lubref etc.)
Coordinate product availability/control with P&S Planning group.
Provide gasoline blend recipes to Operations and Oil Movement.
Coordinate with Offtakers, Operations and Technical Departments on matters pertaining to specification changes, establishment or discontinuation of stocks. Allowance for and disposition of off-spec products.
Prepare weekly operating Targets.
Coordinate with Inspectors on Product Quality Issues.
Reviews, analyzes and develops recommendations regarding the refinery's ability to meet new product specifications (develops Specification Variances)
Perform economic studies and products availabilities forecast considering inventories, refinery equipments availability and product demand.
Updates Offtakers' inventory projections and weekly Inventory Allocation and Monthly Allocation Report.
Also add back-up activities for Planning Engineer (lifting schedule & inventory projection) and refinery LP's (gasoline, Dist LP's).
Corporate Planning Advisor
Job Location: Saudi Arabia
Qualification: Bachelor Degree in Chemical Engineering
Experience: Minimum 11 years in refinery planning.
Purpose of Work:
Interface with cross functional parties at all levels of the organization, as well as resources in operations in order to complete business opportunities within the stipulated/agreed time frame.
Regular Assigned Duties:
Assist in developing and reviewing of agreements in line with business strategy, monitor effective implementation with anticipation of future market developments in terms of business viability
Identify & evaluate the feasibility of new business or margin improvement opportunities taking into consideration cost, margins, and the business needs in line with the company's vision and strategic goals.
Support in the development of the corporate short-range & long-range business plans.
Monitor the market changes & carryout in-depth analysis of relevant implications and advise the corporate management accordingly on possible mitigation options.
Oversee the development of the annual Capital Projects gate package, present and align with shareholders for securing board approvals.
Monitor and review the capital budget, projects' timeline, and cost regularly with the project team. Facilitate creation of mitigation/contingency plans and manage communication.
Conduct internal feasibility assessment and business case to support possible new business opportunity etc…
Develop and monitor technical service requests and all required technical support with Shareholders.
Support in developing and reviewing the monthly corporate planning reports, KPI's etc… for internal & external distribution.
Assist in carrying out benchmarking studies with other industries to identify the corporate position relative to others, analyze the benchmarking results and present to the corporate management.
You may also like to apply,
Disclaimer : jobvows.com will never ask money or we will never call you regarding jobs & visa and we are not recruiters, instead we just sharing available jobs to help others. We are not involving any stages of recruitment directly or indirectly. So we request job seekers, Please do thorough research before applying/attending to any job interview through our website. Read More…