Apply Jobs in Dubai Data Entry 2022 with our career platform Jobvows. Data entry is one of the unique jobs that is common among different organizations. Nowadays, data entry has become important in all industries and sectors. This has given a wide scope for the profiles of jobs in data entry operator across the world. Likewise, in the Middle East, there is more demand for jobs in Dubai for data entry too. In the coming years, Emirates will create more opportunities for data entry jobs in the nation. People with experience and good skills in data entry operations must definitely apply for these vacancies.
Data Entry Jobs in Dubai, Abu Dhabi, Sharjah & UAE
The Emirates is one of the prosperous nations in development and economic growth. Owing to the geographical landscape, various firms, businesses and services will focus on expansion. This in turn will generate more jobs in UAE for data entry operator based profiles. Small scale firms may also introduce to outsource certain jobs of data entry at home as a flexible working atmosphere. People who are comfortable working with computers and data are suitable for this job profile.
| | |
| --- | --- |
| Position | Data Entry |
| Job Location | UAE |
| Qualification | High School / Higher Secondary / Degree |
| Experience | Mentioned below |
| Salary | Depends on Experience |
| Nationality | Any |
| Post Update | 3rd March 2022 |
Data Entry jobs in Dubai Part Time & Full Time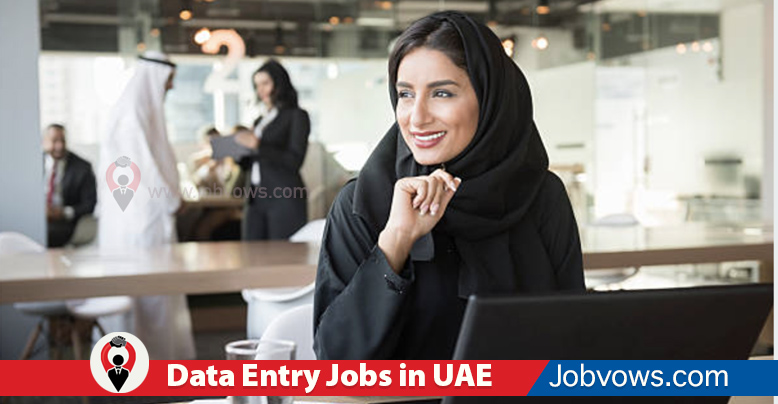 Data Entry Duties and Responsibilities
As a profession, data entry job also consists of certain duties and responsibilities to be followed. They are,
. Preparing data, sort and arrange as per records and updating accordingly
. Good efficiency in using scanners, computers and related hardware devices
. Highly skilled in operating spreadsheets, word documentation and database
. Ensure back up and safety of data from software and human threats
. Efficient in speed typing and repeated tasks
. Multitasking with accuracy
How to Apply Jobs in Dubai Data Entry?
Applicants having experience in similar discipline must attempt for the jobs with data entry. Candidates can also apply for certain vacancies regarding online jobs in data entry from home provided by some firms. Some of the recent job openings of data entry are listed below. People who are willing to apply for the data entry jobs must read all the details carefully. Wishing all a Good Luck.
Updated Job Vacancies in Data Entry Jobs in Dubai 2022
---
Data Entry
Job Location: Dubai
Monthly Salary: Negotiable
Benefits: Accommodation and Visa
Work Experience: 2-5 Years
Education Level: Bachelors Degree
Looking Data Entry Operator with Good Typing & MS office knowledge. Salary is Negotiable Based on Prior work Experience.
Send your CV to WhatsApp: 0588189361
Post Date: 3rd March 2022
---
Document and Data Entry Clerk
Job Location: Dubai
Monthly Salary:Negotiable
Benefits: Accommodation, Transportation and Visa
Work Experience: 1-2 Years
Education Level: Equivalent Degree
looking for a hard-working Document and Data Entry Clerk to join our growing team!
As a Data Entry Clerk, you will be responsible for entering specific data into our databases and you will be responsible for managing data and keeping it organized.
Your main goal will be to keep data in order so that it is easily accessible at any time.
Input new information into database systems
Create and manage spreadsheets
Regularly update existing database system records
Retrieve data as requested
Perform regular backup and security database activities
Document, organize and store relevant documents
Data Entry Clerk requirements
Previous working experience as data entry clerk for 1 year
Fast typing skills
Excellent knowledge of word processing tools and databases
1 year of experience with spreadsheets (MS Office Word, Excel etc.)
Great attention to detail
Sense of ownership and pride in your performance and its impact on company's success
Critical thinker
Team player
Good time-management skills
Great interpersonal and communication skills
Contact# 0566345949 or 0526048907
Post Date: 3rd March 2022
---
You may also like to apply,
Disclaimer : jobvows.com will never ask money or we will never call you regarding jobs & visa and we are not recruiters, instead we just sharing available jobs to help others. We are not involving any stages of recruitment directly or indirectly. So we request job seekers, Please do thorough research before applying/attending to any job interview through our website. Read More…