Apply Jobs in Dubai Data Entry 2022 with our career platform Jobvows. Data entry is one of the unique jobs that is common among different organizations. Nowadays, data entry has become important in all industries and sectors. This has given a wide scope for the profiles of jobs in data entry operator across the world. Likewise, in the Middle East, there is more demand for jobs in Dubai for data entry too. In the coming years, Emirates will create more opportunities for data entry jobs in the nation. People with experience and good skills in data entry operations must definitely apply for these vacancies.
Data Entry Jobs in Dubai, Abu Dhabi, Sharjah & UAE
The Emirates is one of the prosperous nations in development and economic growth. Owing to the geographical landscape, various firms, businesses and services will focus on expansion. This in turn will generate more jobs in UAE for data entry operator based profiles. Small scale firms may also introduce to outsource certain jobs of data entry at home as a flexible working atmosphere. People who are comfortable working with computers and data are suitable for this job profile.
| | |
| --- | --- |
| Position | Data Entry |
| Job Location | UAE |
| Qualification | High School / Higher Secondary / Degree |
| Experience | Mentioned below |
| Salary | Depends on Experience |
| Nationality | Any |
| Post Update | 6th January 2022 |
Data Entry jobs in Dubai Part Time & Full Time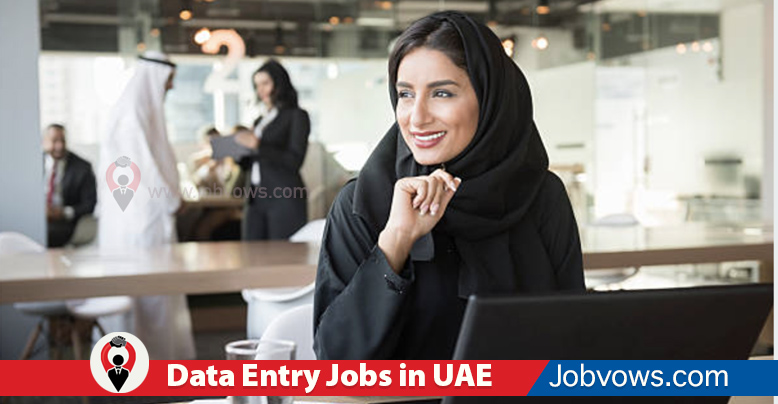 Data Entry Duties and Responsibilities
As a profession, data entry job also consists of certain duties and responsibilities to be followed. They are,
. Preparing data, sort and arrange as per records and updating accordingly
. Good efficiency in using scanners, computers and related hardware devices
. Highly skilled in operating spreadsheets, word documentation and database
. Ensure back up and safety of data from software and human threats
. Efficient in speed typing and repeated tasks
. Multitasking with accuracy
How to Apply Jobs in Dubai Data Entry?
Applicants having experience in similar discipline must attempt for the jobs with data entry. Candidates can also apply for certain vacancies regarding online jobs in data entry from home provided by some firms. Some of the recent job openings of data entry are listed below. People who are willing to apply for the data entry jobs must read all the details carefully. Wishing all a Good Luck.
Updated Job Vacancies in Data Entry Jobs in Dubai 2022
---
DATA ENTRY OFFICE ASSISTANCE (FRESHERS)
Job Location: Dubai
Monthly Salary: AED 2000
Work Experience: 0-1 Years
Education Level: High-School / Secondary
FRESHER OR FIRST TIME JOB NO PROBLEM
Data entry, Import purchasing & all other office related work
• candidate should follow supplier from china, Korean, Taiwan , and all other oversea supplier , TO Place order of goods and manage there account and make TT and make sure timely delivery . an all other office related job , manage and maintainer account in our software .
• Special Training will be given on the above subject
Basic requirement as below:
Fluently speaking English & Urdu OR Hindi, English Fluently Reading, writing and understanding it IS Mandatory.
• Good knowledge of computer application such as excel, work, power point, Typing speed at least 30 word per minutes.
• Age 18 to 27 maximum, unmarried,
• Physically fit to work energetic person, must be unmarried Male only Pakistani or Indian or Bangladeshi only
• Have idea about the shipping and courier documents is plus point
• Only interested candidate others do not waste time
Duty Timing 8.30 AM TO 1.30 PM AND 4.00 PM TO 9 PM Friday off OR Duty timing as per supplier REQUIREMENT
Send your CV to: 0529082919
Post Date: 6th January 2022
---
Data Entry Clerk
Job Location: Dubai
Monthly Salary: Unspecified
Work Experience: 1 – 2 Years
Education Level: High school / Diploma
Looking for a Data Entry Clerk to join our company. As a typist, you will be required to type up company documents from written media and audio recordings, record meeting minutes and notes, and check all written documents for errors. You will also be required to draft documents and perform a variety of clerical duties.
To be a successful typist, you should have a keen eye for detail and possess fast typing abilities. Ultimately, a top-notch typist should be able to spot grammatical errors quickly and have experience with a variety of documents and word processing software.
Responsibilities:
Typing up company documents from dictation, audio recordings, written documents, and other media.
Recording meeting minutes and notes.
Drafting documents, reports, spreadsheets, presentations, and other written material.
Reformatting, converting, and merging documents to conform to company specifications.
Transcribing handwritten documents and audio recordings to digital documents.
Proofreading completed work and correcting spelling, punctuation, and grammatical errors.
Managing and maintaining the physical and digital document filing system.
Performing general office duties such as copying, scanning, printing, and answering phone calls and emails, among others.
Ensuring that the office supplies are maintained and informing the supervisor of any issues or requirements.
Requirements:
Prior experience as a typist or data entry clerk is preferable.
Typing speed of 20-50 words per minute.
The ability to type from dictation.
Proficiency in office software such as MS Word, Excel, and Google Docs.
A keen eye for detail and the ability to spot spelling and grammar errors.
Excellent vocabulary and command of the English language.
Exceptional verbal and written communication skills.
Familiarity with paper and digital document filing systems.
Strong time management and organizational skills.
Contact# 0567184558
Email: [email protected]
Post Date: 6th January 2022
---
Data Entry Operator Cum Encoder
Job Location: Dubai
Monthly Salary: Unspecified
Work Experience: 1 – 2 Years
Education Level: High school / Diploma
Gender: Any
Looking for Data Entry Operator cum Encoder
Handling intake, scanning, verification, and storing documents.
Filing and archiving relevant documentation.
Retrieving files for other employees and customers when needed.
Designing templates for documents, file types, and document databases.
Checking and editing documents for accuracy and compliance.
Controlling the flow of documents in and out of the department.
Reporting errors or developments regarding document storage.
Ensuring the secure destruction and disposal of sensitive documents.
Contact#0543537369
Email: [email protected]
Post Date: 6th January 2022
---
Data Entry Operator
Job Location: Dubai
Monthly Salary: AED 4000
Work Experience: 1-2 Years
Education Level: Secondary / Equivalent Degree
Looking for a Data Entry Operator to update and maintain information on our company databases and computer systems.
Send your resume on WhatsApp: +971503645642
Post Date: 1st January 2022
---
Computer Operator
Job Location: Dubai
Monthly Salary: AED 2000 – 3000
Work Experience: 1-2 Years
Education Level: Diploma / Secondary
Looking for a talented computer operator to monitor and control our computer systems.
Send your CV to: +971502532826
Post Date: 1st January 2022
---
Data Entry Operator
Job Location: Sharjah
Monthly Salary: AED 2000
Work Experience: 1 Years
Education Level: Masters Degree
Looking for Data Entry operator in Dubai and Sharjah. Candidate should have Computer knowledge. Fresher can apply. Asian and African people can send their cv on WhatsApp directly #0521732081
Post Date: 1st January 2022
---
You may also like to apply,
Disclaimer : jobvows.com will never ask money or we will never call you regarding jobs & visa and we are not recruiters, instead we just sharing available jobs to help others. We are not involving any stages of recruitment directly or indirectly. So we request job seekers, Please do thorough research before applying/attending to any job interview through our website. Read More…