SPIE Oil & Gas Services Jobs & Careers 2021: Since its creation, SPIE Oil & Gas Services mission as a service company has been to transform work into energy, and vice versa. Over 3,000 engineers and technicians dedicate themselves every day to projects with a spirit of adventure where risk-taking is mitigated by preparation. Thanks to their energy and our evolving expertise, we assist our clients from the engineering phase of their projects through to operations. Our clients are the catalyst of our evolution, and it is thanks to their trust that SPIE Oil & Gas Services deploys the most comprehensive range of services on the market in over 30 countries. SPIE Oil & Gas Services offers a large range of products and services to upstream oil & gas operators world-wide , adding value through the entire well lifecycle including adaptability to ancillary solutions.
SPIE Oil and Gas Careers – Future
| | |
| --- | --- |
| Company Name | SPIE Oil and Gas Services |
| Industry | Oil & Energy |
| Job Location | UAE,Qatar, Saudi & Kuwait |
| Qualification | Diploma / Degree |
| Experience | Mandatory |
| Salary | Not Specified |
| Nationality | Any |
SPIE Oil & Gas Services – Oil and Gas Jobs 2021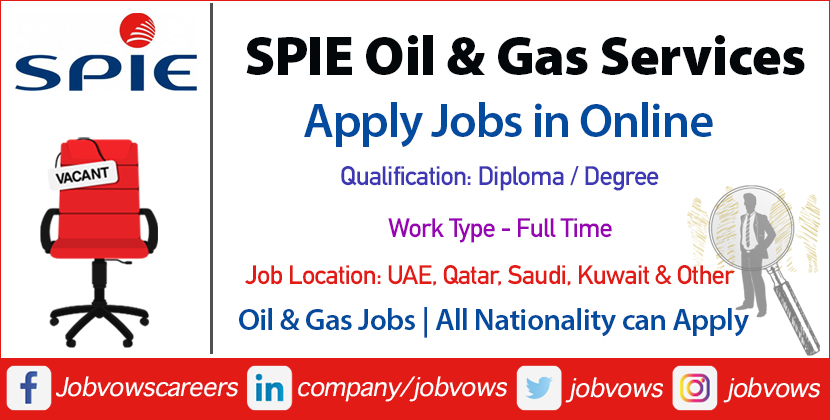 Apply SPIE Oil & Gas Services Jobs
Candidates must have a valid email ID to process application and receive your job notifications
It is mandatory that the candidates must upload their updated resume online
Click on the Apply Now button below. The website will guide the candidate to fill up the necessary professional and personal details
Once the process of Job Application is complete, candidates will receive a notification email of the same.
Apply the below listed job vacancies in SPIE Oil & Gas Services at UAE, Qatar, Saudi, Kuwait & Other Location.
| | | |
| --- | --- | --- |
| Positions | Location | Action |
| Design Engineer Rotating (Mechanical) | UAE | Apply |
| Electrical Supervisor M/F | UAE | Apply |
| Outage Planner & Coordinator – M/F | UAE | Apply |
| Senior Mechanical Section Head – M/F | UAE | Apply |
| Senior Electrical Engineer – M/F | UAE | Apply |
| Engineer Network Maintenance M/F | UAE | Apply |
| CMMS Planning Engineer M/F | UAE | Apply |
| HSE Officer M/F | UAE | Apply |
| Electrical Verifier M/F | UAE | Apply |
| SR. Instrument Commissioning Engineer M/F | UAE | Apply |
| Commissioning Coordinator (MEP & FIT Outs) | Qatar | Apply |
| Senior Architectural Engineer (FIT OUT) M/F | Qatar | Apply |
| Interior Designer M/F | Qatar | Apply |
| Business Head M/F | Qatar | Apply |
| Engineer Services Head (Suvsea Pipelines) | Qatar | Apply |
| Electrical Technician M/F | Qatar | Apply |
| Process Manager M/F | Saudi Arabia | Apply |
| Facilities Planning Leader M/F | Saudi Arabia | Apply |
| Senior Business Analyst M/F | Saudi Arabia | Apply |
| FRAC Operators M/F | Saudi Arabia | Apply |
| Training Specialities M/F | Kuwait | Apply |
| Procedure Development Specialities M/F | Kuwait | Apply |
| Senior Fielf Operator M/F | Iraq | Apply |
| Senior Metering Technician M/F | Iraq | Apply |
| Drilling Ssupervisor M/F | Iraq | Apply |
| Drilling Engineer M/F | Iraq | Apply |
| Production Operator M/F | Iraq | Apply |