Baker Hughes Jobs and Careers Recruitment: Baker Hughes is a leading energy technology company. We design, manufacture and service transformative technologies to help take energy forward. But we're local too. With operations in more than 120 countries we work in partnership with our customers, wherever they are, to deliver better outcomes. We are proud that our people and our businesses are part of the fabric of the communities in which they work.
Baker Hughes achieved 153 Perfect HSE Days in 2018. The Perfect HSE Day means all employees go home safely to their families and the environment is not harmed. Baker Hughes is hiring Graduate Engineers and Diploma Holders on Full time basis of both office and site related projects.
Baker Hughes exploring their huge vacancies in various location and urgent openings.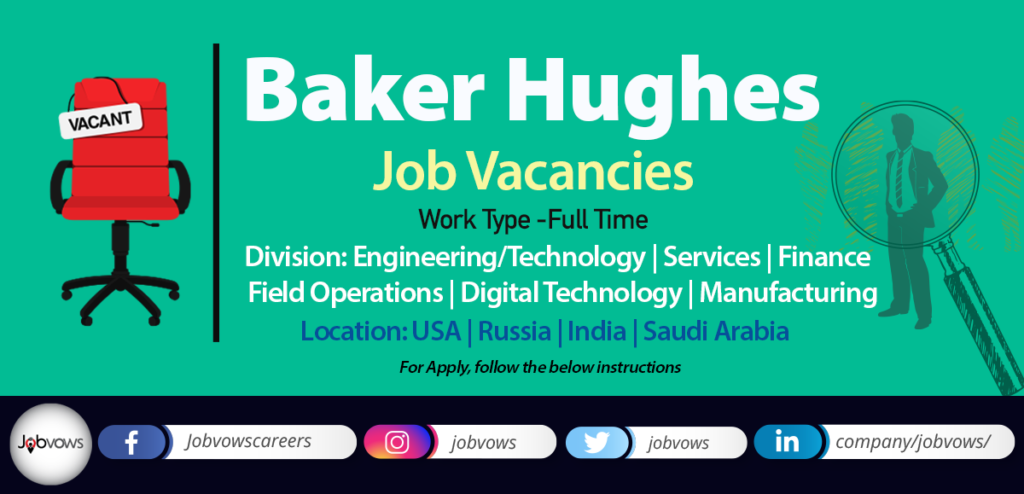 Industry: Oil & Energy
Salary: Not Specified
All Nationality can Apply
Compulsory details to Note before applying for the Job Postings
. Candidates can only apply through online mode
. Candidates must have a valid email ID to receive their job notifications
. It is mandatory that the candidates must upload their updated resume online
. Certain departmental positions require cover letter along with the resume
Baker Hughes Jobs: Procedure to Apply
Interested and Qualified candidates may apply online for the job openings
Click on the "Apply Now" button below. The website will guide the candidate to fill up the necessary professional and personal details
Once the process of Job Application is complete, candidates will receive a notification email of the same.
| | | |
| --- | --- | --- |
| Positions | Location | Action |
| Lead Engineer – Customer Application Engineering | India | Apply Now |
| Software Engineer-.Full Stack | India | Apply Now |
| Salesforce Developer | India | Apply Now |
| Traveling DCS Engineer | India | Apply Now |
| Onshore Flexible Pipes Engineering Manager | USA | Apply Now |
| Lead Turbine Controls Engineer | USA | Apply Now |
| Mechanical Engineer | USA | Apply Now |
| Chemical Technician (Downstream Chemicals) | USA | Apply Now |
| Lead Mechanical Engineer | USA | Apply Now |
| Senior Engrineering Manager Subsea Systems | Russia | Apply Now |
| Customer Application Engineer – Electric Submersible Pump | Saudi Arabia | Apply Now |