Al-Futtaim Group Jobs and Recruitment 2020: Al–Futtaim Group is a major multinational private company established in Dubai, United Arab Emirates. Founded in 1930, AL- Futtaim Company LLC expanded their business by combining commercial and industrial services. Global presence of AL-Futtaim Group is vast in more than 20 nations extending the corporate profile across South and South-East Asia, Africa and Middle East. Regional presence of AL- Futtaim Company extends across Egypt, Lebanon, Bahrain, Kuwait, Oman, Qatar and Saudi Arabia.
AL Futtaim Group Business Empire includes automotive aftersales, distributors, logistics, manufacturing, rental and leasing. The Financial services of AL – Futtaim Company are Banking, Finance, Insurance and Investment. Al-Futtaim Real Estate portfolio consist of Property Management, Malls and Lifestyle and Education. Retail business has electronics, fashion, food and beverage, toys, multi-brand retailers. Health services of Al- Futtaim Company provides clinical and Pharmacy supplies. Famous and celebrated brands from across the world have found success and reputation through the mutual trust and cooperation with the company.
Al-Futtaim Group exploring their latest job opportunities in various departments.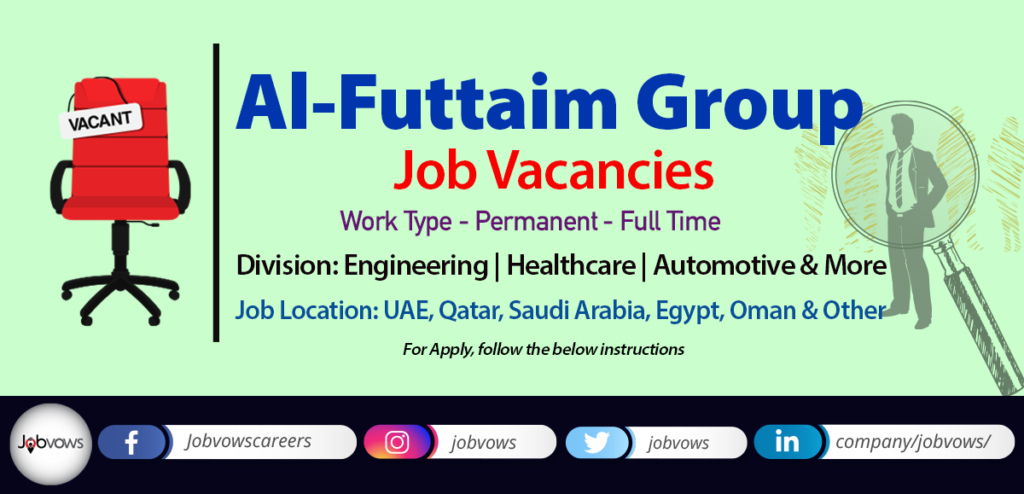 Industry: Retail
Headquarters: Dubai, UAE
Any Nationality can apply
Al-Futtaim Groups: How to Apply?
Interested and qualified candidates can apply now.
Candidates can only apply through online mode
Candidates must have a valid email ID and Contact number to create account and receive job notifications
It is mandatory that the candidates must upload their updated resume online
Certain departmental positions require cover letter and supporting documents along with the resume
Click on the Apply Now button below. The website will guide the candidate to fill up the necessary professional and personal details
Once the process of Job Application is complete, candidates will receive a notification email of the same.