Find Airblue Airline jobs in 2023 from Jobvows. Find the latest Airblue opportunities and apply online. Airblue airline careers are always updated here and you can find the latest vacancies at UAE, Saudi Arabia, Pakistan and India. Find all the updated vacancies below and Apply online now.
Airblue Airline Careers 2023
Airblue Jobs and Careers Recruitment: Airblue Limited is a private airline with its head office on the 12th floor of the Islamabad Stock Exchange (ISE) Towers in Islamabad, Pakistan. It is Pakistan's second largest airline with a growing share of the domestic market. Airblue's fleet consists of next-generation Airbus A320 and A321 aircrafts.
Led by a team with decades of experience in the industry, airblue embodies a new era in air travel. The company's shareholding structure includes a group of investors including Mr. Tariq Chaudhary with majority stake. Mr. Chaudhary also serves as CEO and Chairman of the Board. Airblue operates scheduled flights linking domestic destinations Islamabad, Lahore, Karachi, Peshawar and Multan with international destinations of UAE airports Dubai, Sharjah and Abu Dhabi, and KSA airports of Jeddah and Riyadh.
| | |
| --- | --- |
| Airline Name | Airblue Airline |
| Job Location | UAE, Saudi, Pakistan & Other Location |
| Qualification | Diploma / Degree |
| Experience | Mandatory |
| Salary | Not Specified |
| Nationality | Any |
Latest Airblue Airline Opportunities in Pakistan, India, Saudi Arabia & UAE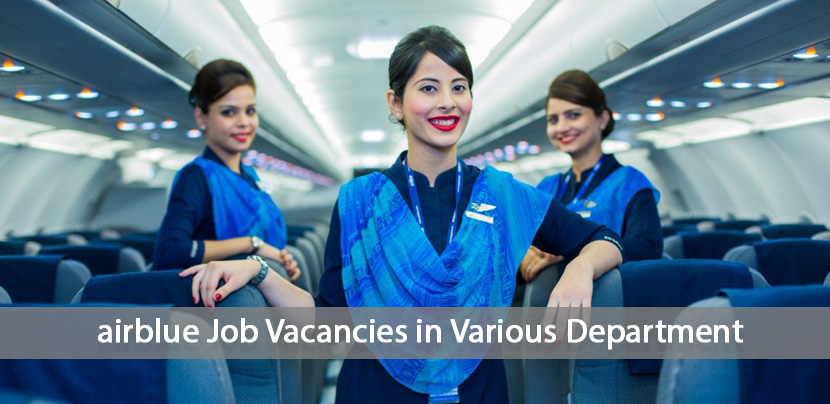 Airblue Jobs How to Apply?
Candidates can only apply through online mode
Candidates must have a valid email ID to process application and receive your job notifications
It is mandatory that the candidates must upload their updated resume online
Certain departmental positions require cover letter along with the resume
Click on the Apply Now button below. The website will guide the candidate to fill up the necessary professional and personal details
Once the process of Job Application is complete, candidates will receive a notification email of the same.
Airblue Job Vacancies – Apply Online
| | |
| --- | --- |
| Position | Location |
| Medical Coordinator | KHI – Airport |
| Medical Officer | KHI – Airport |
| Flight Surgeon | LHE – Airport |
| Associate Airside | MUX – Airport |
| Associate Baggage Services | MUX – Airport |
| Call Center Counselor | ISB – Call Center |
| District Manager | AUH- City office |
| General Manager Commercial | ISB – Corporate HQT |
| Coordinator | JED – City Office |
| Travel Counselor | KDU – City Office |
| Travel Counselor | KHI – Airport |
| Client Relations Executive | KHI – City Office |
| District Manager | KHI – City Office |
| Travel Counselor | MUX – Airport |
| Client Relations Executive | PEW – City Office |
| Travel Counselor | SHJ – City Office |
| Client Relations Executive | UET – City Office |
| Assistant Manager | ISB – Corporate HQT |
| Executive | ISB – Corporate HQT |
| Engineer AWM – Power Plant | ISB – Airport |
| Engineer MCC | ISB – Airport |
| Equipment Technician | ISB – Airport |
| Manager MCC | ISB – Airport |
| Supervisor – NDT Shop | ISB – Airport |
| Supervisor – Structure Repair Shop | ISB – Airport |
| Supervisor – Wheel Shop | ISB – Airport |
| Technician – Aerospace | ISB – Airport |
| Technician – Avionics | ISB – Airport |
| Technician – Battery Shop | ISB – Airport |
| Technician – Oxygen Shop | ISB – Airport |
| Aircraft Engineer – Aerospace | KHI |
| Assistant Engineer AWM | KHI |
| Assistant Engineer PPC | KHI |
| Engineer AWM | KHI |
| Executive Planning & Production Control | KHI |
| General Manager AWM | KHI |
| Planning Engineer | KHI |
| Technician – Aerospace | KHI |
| Technician – Avionics | KHI |
| Technician – Battery Shop | KHI |
| Technician – Oxygen Shop | KHI |
| Aircraft Engineer – Aerospace | LHE – Airport |
| Store Keeper | LHE – Airport |
| Technician – Aerospace | LHE – Airport |
| Technician – Avionics | LHE – Airport |
| Cadet Pilot | ISB – Airport |
| Captain | ISB – Airport |
| First Officer | ISB – Airport |
| Captain | KHI – Airport |
| First Officer | KHI – Airport |
| Captain | LHE – Airport |
| First Officer | LHE – Airport |
| Flight Operations Officer | ISB – Corporate HQT |
| General Manager | ISB – Corporate HQT |
| Cabin Crew | ISB – Airport |
| Cabin Crew – Trainee | ISB – Airport |
| Designated Checked Cabin Crew | ISB – Airport |
| Lead Cabin Crew | ISB – Airport |
| Performance Executive | ISB – Airport |
| General Manager Flight Services | ISB – Corporate HQT |
| Assistant Manager Flight Services | KHI – Airport |
| Cabin Crew – Trainee | KHI – Airport |
| Designated Checked Cabin Crew | KHI – Airport |
| Lead Cabin Crew | KHI – Airport |
| Manager Flight Services | KHI – Airport |
| Performance Coordinator | KHI – Airport |
| Assistant Manager Flight Services | LHE – Airport |
| Cabin Crew – Trainee | LHE – Airport |
| Designated Checked Cabin Crew | LHE – Airport |
| Lead Cabin Crew | LHE – Airport |
| Manager Flight Services | LHE – Airport |
| Performance Executive | LHE – Airport |
| Cabin Crew – Trainee | MUX – Airport |
| Performance Executive | MUX – Airport |
| Cabin Crew – Trainee | PEW – Airport |
| Assistant Manager Human Resources | ISB – Corporate HQT |
| General Manager Human Resources | ISB – Corporate HQT |
| HR Coordinator | ISB – Corporate HQT |
| HR Executive | ISB – Corporate HQT |
| Executive Internal Audit | ISB – Corporate HQT |
| Marketing Coordinator | ISB – Corporate HQT |
| Junior Network Operations Engineer | ISB – Airport |
| Software Developer | ISB – Corporate HQT |
| UI/UX Developer | ISB – Corporate HQT |
| General Staff – Admin | ISB – Corporate HQT |
| Aircraft Engineer-Quality Assurance | ISB – Airport |
| Aircraft Engineer-Quality Assurance | KHI |
| Trainee Engineer Quality Assuranc | KHI |
| Trainee Engineer Quality Assurance | KHI |
| Aircraft Engineer-Quality Assurance | LHE – Airport |
| Administration Coordinator | ISB – Corporate HQT |
| Manager Scheduling | ISB – Corporate HQT |
| Scheduling Assistant | ISB – Corporate HQT |
| Counselor | ISB – Airport |
| Assistant Manager | KHI – Airport |
| Assistant Manager | LHE – Airport |
| Counselor | LHE – Airport |
| General Staff | LHE – Airport |
| Counselor | MUX – Airport |
| Aviation Training Instructor | ISB – Airport |
| Aviation Training Instructor | KHI – Airport |
| Aviation Training Instructor | LHE – Airport |
| Ground Instructor Cabin | LHE – Airport |
| Transport Executive | ISB – Airport |
| Transport Executive – Performance | ISB – Corporate HQT |
| Transport Executive – Repair | ISB – Corporate HQT |
| Shift Supervisor | LHE – Airport |
You may also like to apply,
Disclaimer : jobvows.com will never ask money or we will never call you regarding jobs & visa and we are not recruiters, instead we just sharing available jobs to help others. We are not involving any stages of recruitment directly or indirectly. So we request job seekers, Please do thorough research before applying/attending to any job interview through our website. Read More…